Cancellation Policy
Our Cancellation Policy is simple and we understand your travel plans may change, so we offer a simple cancellation policy. Regardless of whether you made your reservation online, via mobile app, or by dialing (888) 991-RIDE (7433). Give us (24) hours notice prior to your pickup time by replying to us by email, and you will get a full refund.
If paid by credit card refunds normally show on your account within three (3) to five (5) business days. Credit card refunds are submitted to the financial institution within one (1) business day, excluding weekends and federal holidays. Customer should refer to their financial institution to check on status of refund for more information.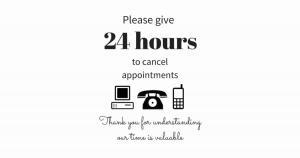 Bry`s Car Service is unable to refund payment if cancelled with less than
twenty four (24) hours notice prior to your pickup time or in the event of a no-show!
If your travel plans change and you need to reschedule your reservation call (888) 991-RIDE (7433) and one of our Reservation Specialists will be happy to assist you. You can also book online.

All deposits and payments are NON refundable within 24 hours of pickup time. Credit cards on file are considered a deposit 24 hours before designated pick up time. Company is not liable in the event of mechanical breakdown while on charter and will only be responsible for making up lost time at a mutually agreed date. The client assumes full financial liability for any damage to the vehicle caused during the duration of the rental by them or any members of their party. A fee of 100.00 for each carpet or seat burn. Sanitation fee is 250.00. Alcohol Consumption and drug use is prohibited by law. Any fines will be paid for by the customer. The driver has the right to terminate run without refund (if there is blatant indiscretion on the part of the client(s)). It is Illegal to stand through the sunroof. Smoking is not permitted in the vehicle. Overtime pay will apply after the first 15 minutes of prearranged time described on the run sheet. Not responsible for delays or the termination in winter caused by unsafe road conditions (ie. not salted, accidents, etc.). Drivers are professionally trained to operate lawfully and safely under various conditions. Not responsible for articles left in the vehicle. Balances to be paid in cash to the driver upon arrival. Vehicles cannot be loaded beyond seating capacity. If you have any questions or comments about this statement, the administration of this web site, or your online relationship with Bry`s Car Service, you may contact us via e-mail at info@bryscarservice.com